ABHIJATA SRIDHAR | SYDNEY 2015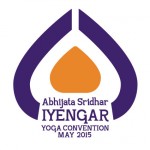 ABHIJATA SRIDHAR IYENGAR YOGA CONVENTION MAY 2015 
1st May – 3rd May 2015
Sydney Australia
Abhijata Sridhar Iyengar is Guruji's grand daughter and a senior teacher at the Ramamani Iyengar Yoga Memorial Institute (RIMYI) in Pune. She has been very warmly received in her role as guest teacher at national conventions in Europe and the UK and we are honoured that Abhijata has agreed to visit Australia to teach.
Venue The Convention will be held at Byron Kennedy Hall which is part of the Entertainment Quarter in Sydney. The venue is centrally located in Moore Park, which is located next to the Sydney Cricket Ground. The venue has great indoor and outdoor spaces we can use; there is a good selection of food and beverage venues available; is easily accessible by road / public transport and onsite parking is available at casual rates or $25 for the day.
Participants All participants are required to have minimum of three years experience practicing Iyengar Yoga.
Accommodation Participants will be required to organise their own accommodation. Options available close to the venue will be provided to members by the end of January.
Meals There will be a 3 1/2 hour break between the morning and afternoon classes on Saturday and Sunday. Tea, coffee and a light refreshment will be provided during this time both days. Lunches will be at participants own expense and options available include:
One of the local cafes or restaurants in close proximity to Byron Kennedy Hall, including those within the Entertainment Quarter. A local guide to the cafes and transport will be included in the Registration Pack provided prior to the Convention.
Or you can bring lunch along to eat in one of the indoor or outdoor spaces at the Entertainment Quarter.
Props Participants will need to bring the following props:
1 Mat
1 Belt
2 Blocks
4 Blankets
Cost Cost of the Convention is $395 per person.
Schedule
 Date
 Time
 Activity
Friday
1st May 2015
 1.00 – 2.30 pm
 Registration
 2.30 – 3.00 pm
 Participants to take places
 3.00 – 3.30 pm
 Convention Opening
 3.30 – 5.30 pm
 Afternoon Class
Saturday
2nd May 2015
 9.30 – 12.00 pm
 Morning Class
12.00 – 3.30 pm
Lunch Break (Tea, Coffee,, Light Refreshment provided)
 3.30 – 5.30pm
 Afternoon Class
Sunday
3rd May 2015
  9.30 – 12.00pm
 Morning Class
12.00 – 3.30 pm
 Lunch Break (Tea, Coffee, Light Refreshment provided)
3.30 – 5.30 pm
Afternoon Class
5.30 – 6.00 pm
Convention Closure